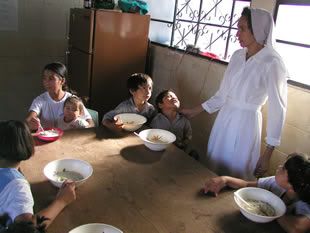 WFP's Latin America spokesman Jordan Dey recently returned from eastern Guatemala where some 60,000 children are suffering acute malnutrition.
In this eyewitness report, he describes a visit to the San Ixtan therapeutic feeding centre in Jalpatagua, one of 41 receiving WFP food aid.
The snippet and picture were taken from the
World Food Programme's
website. Since my other Guatemala source no longer appears to be up I'm improvising. It's all good though. They're still a charitable cause. It's just food instead of cosmetic surgery.