Continuing with the photographs the
Lundquists
took during their trip to Guatemala with
Heats in Motion
. John Lundquist has given me permission to reprint any and all of the photographs they took provided we link to
Hearts in Motion
.
I've got no problems with that. I was going to link to
Hearts in Motion
anyway. So here's the link to
Hearts in Motion
.
LINK
Okay,now the post.
Ludwig was too scared to let the doctor take a good look at his teeth but just smiling we could see lots of problems already so Dr. Hood plays ball instead.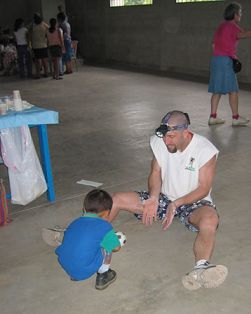 Heydi is frightened by doctors of course. We didn't know that Sunday Rene had also taken her to one of the dental clinics after they left the hospital. Dr. Jeff Hood saw her as one of the many patients that day but didn't know she was the little girl he heard us talking about. He noticed her trach scar and didn't even try to remove the teeth afraid he might break her jaw. When we found out that she was in pain we asked Rene to bring her back again and also her little brother. This time Dr. Hood went for it and successfully removed her teeth.
This post was brought to you by the fine, fine Lundquist family.
UPDATE:
Baron from
Hey, I have a blog too
was smart enough to notice that my links were going nowhere. No, I'm not being cynical. I passed my attention too. Hearts in Motion, being a charity type group, are not DOT-COM but DOT-ORG. All links have been updated accordingly.