Something you may have noticed is that I don't have any pictures of the Air Force in this hope series. Well, here's the best I could come up with for the Air Force: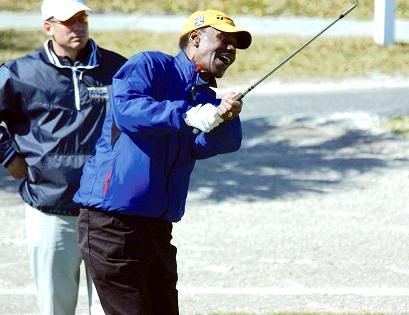 Tee time brings military, NFL together
TYNDALL AIR FORCE BASE, Fla. -- NFL Hall of Fame member Charley Taylor, a former Washington Redskins wide receiver, and Navy Chief Petty Officer David Williams, from Blount Island Command Marine Base, Fla., hit the links Feb. 5 at the hall of fame's annual tournament at the Amelia Island Plantation golf course in Jacksonville, Fla. (U.S. Air Force photo by 2nd Lt. William Powell)
OKAY OKAY! JUST KIDDING!
Here's a much better one: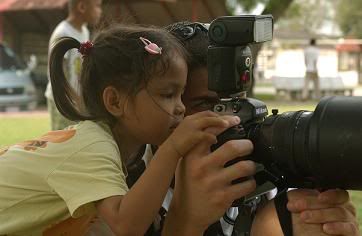 Say cheese
UTAPAO, Thailand -- Staff Sgt. Aaron Allmon takes time away from operations to visit the Pattaya Orphanage and School for the Deaf here Jan. 19. Sergeant Allmon is deployed in support of Operation Unified Assistance and is assigned to the 1st Combat Camera Squadron at Charleston Air Force Base, S.C. (U.S. Air Force photo by Tech. Sgt. Harry Fisher)
No,
Grandma
. We cannot get you that nice new Nikon in the picture. You'll have to settle for the atomic powered one you're already taking amazing photos with.