Yes, we even brought the dog catchers.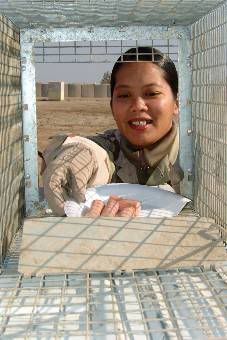 Pests no match for 'Bug Girl'


BAGHDAD, Iraq -- Senior Airman Amy Arriola sets a trap to catch stray
cats and foxes. She is the pest controller for the 447th Expeditionary
Civil Engineer Squadron at Camp Sather here, and is deployed from Guam
Air National Guard's 254th CES. (U.S. Air Force photo by Tech Sgt.
Michael O'Conner)