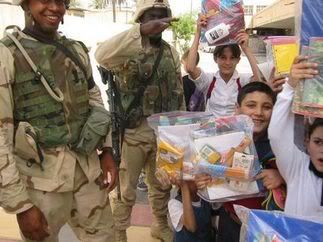 Is you can see here by the photo, this is clearly U.S. servicemembers training new terrorists fighters. Those are not new school supplies sent by people like you and me. They're bomb making pamphlets and secret decoders for terror messages.
Yeah, right.
If you or anyone you know wants to make another picture like this happen please follow the links to one of the following places:
Spirit of America
Iraqi Schools
Operation Iraqi Children
Operation Shoe Fly (Shoes for Afghanistan)(Formerly SGT Hook)
Of course, if you'd like to assist the American terrorist infidel occupiers you can go to one of the following sites:
Adopt-A-Platoon
Treats for Troops
Show Thanks
Soldier Ride
Books for Soldiers
And last but not least, I believe it's the
American Dinosaur
, Billy Budd, that can hook you up with a pen pal, send your phone cards or send other items to the troops if nothing above floats your boat. Just
e-mail
him.